STEP 1: VISIT A PRODUCT PAGE
Visit a product page & click on "SIZE FINDER" (see red arrow below)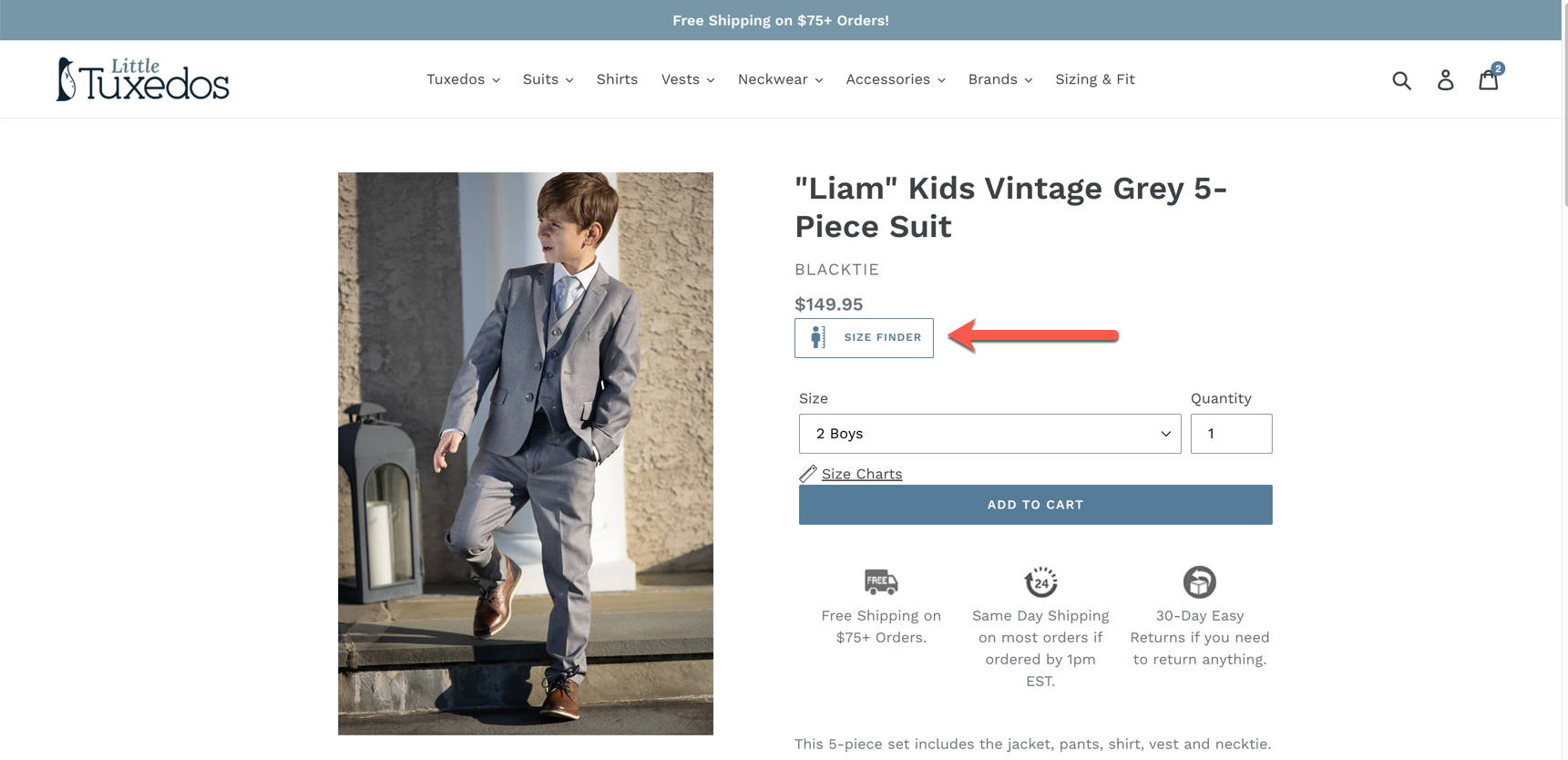 STEP 2: SCAN QR CODE WITH YOUR PHONE
No download required. If using Desktop or Tablet, just scan the QR code & follow the prompts on your phone. If you are browsing the site with your phone, you will skip this QR code Step & you will automatically go to Step 3. Easy!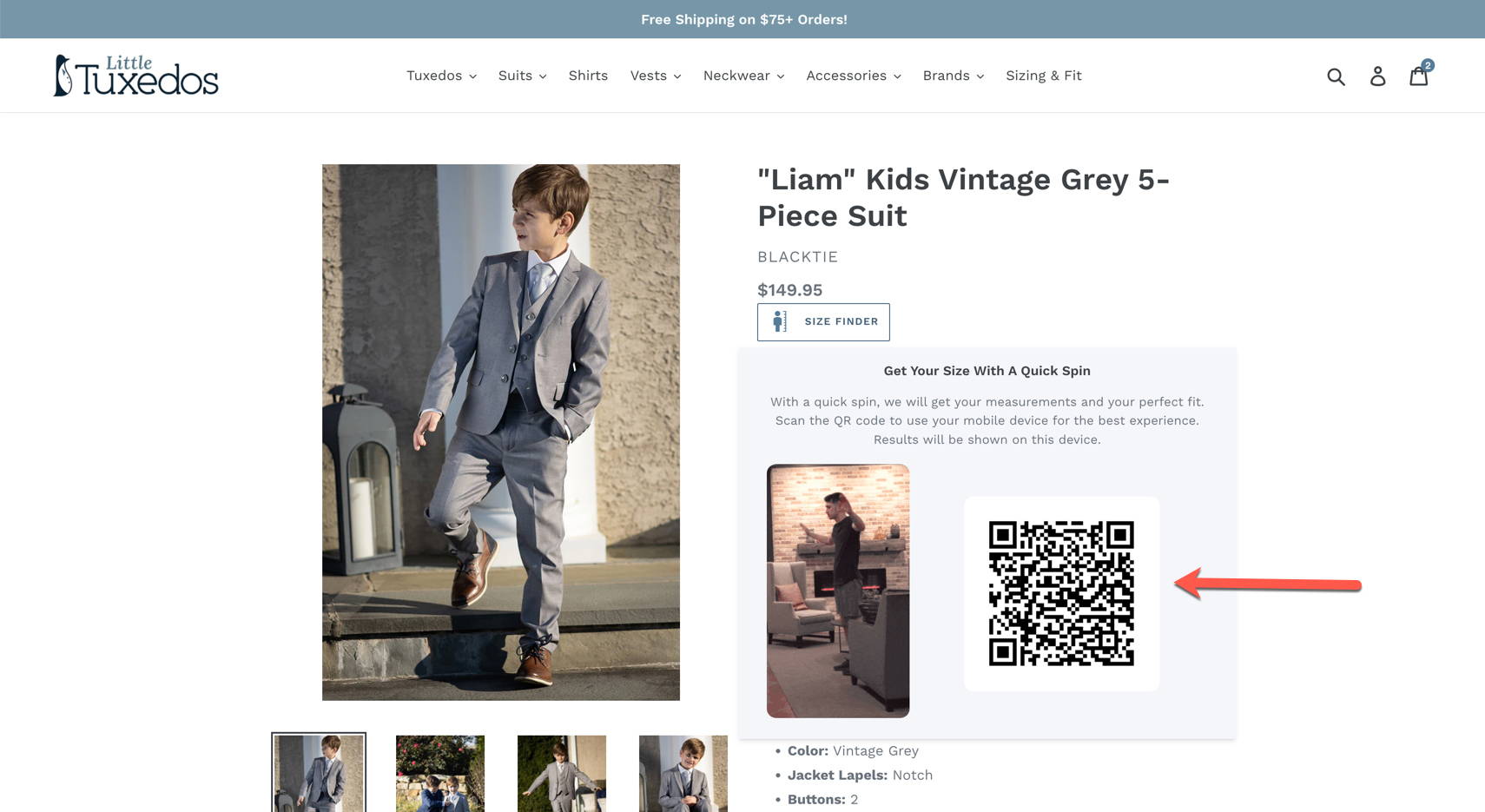 STEP 3: ENTER GENDER & HEIGHT ON YOUR PHONE
It is very important to enter "Height" correctly. This is what serves as a point of reference & helps ensure the app provides accurate measurements. Also, please be sure to NOT wear baggy or oversized clothing. Either no shirt or a form fitting shirt is recommended.
STEP 4: FOLLOW PROMPTS ON YOUR PHONE
Place your device on the floor, against a wall with a slight tilt, and step back into the screen. Raise your arms with elbows above your ears & do a full spin slowly. Once completed, your recommended sizes will then display on the website within a few seconds.
STEP 5: BROWSE THE SITE & NOW SEE YOUR RECOMMENDED SIZES FOR INDIVIDUAL PRODUCTS
The app is "session-based". This means you only have to use the app one time; you do not have to do a spin for each product. Your measurements are then saved to your session. As you visit different product pages on the website, your recommended sizes will display.

NOTE:  You may see that your size recommendation is different for one product compared to another. Do not assume that your size will always be the same for every product. (example: CLASSIC FIT vs SLIM FIT suits)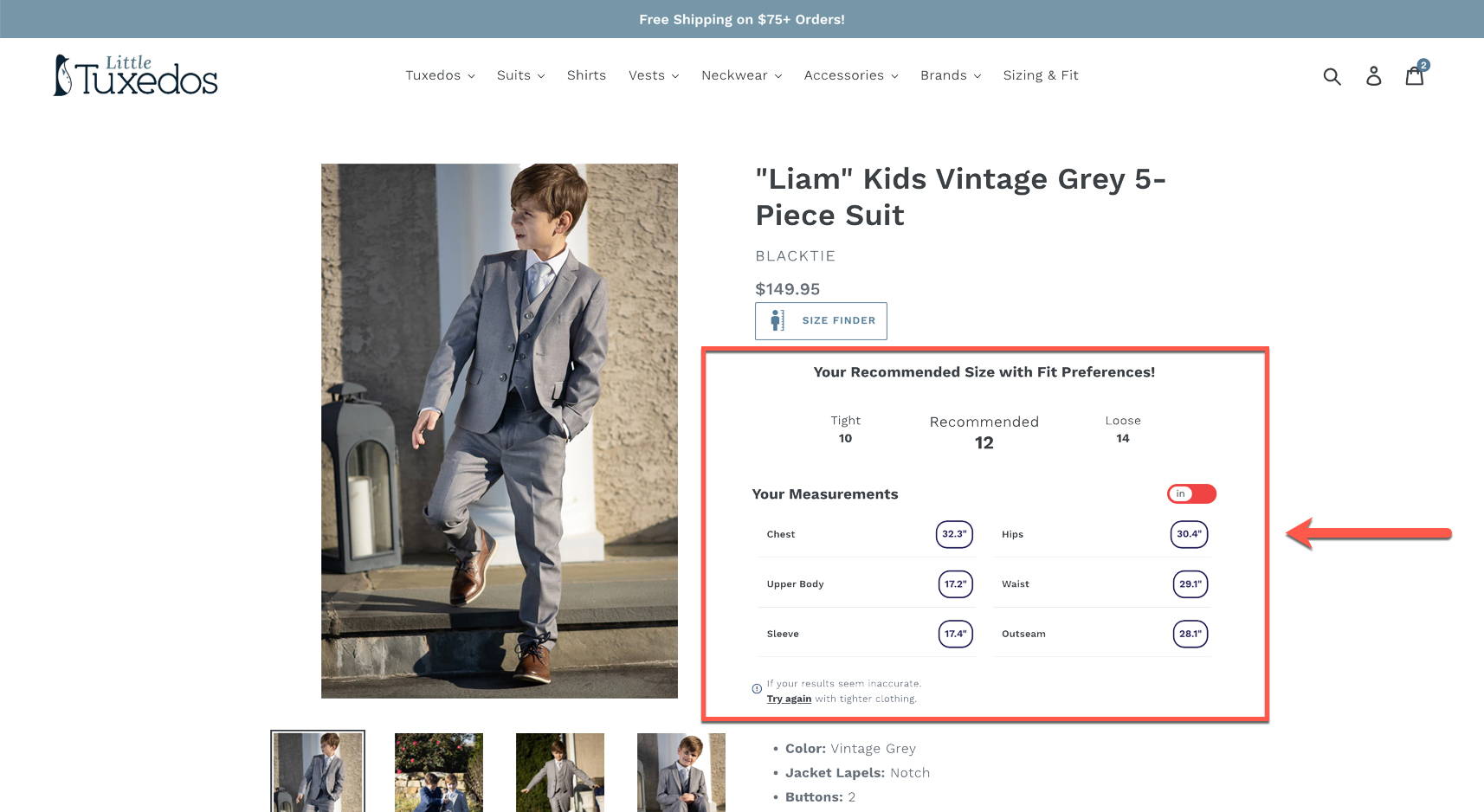 Obviously, people come in different shapes & sizes. Fit is also somewhat subjective. We cannot guarantee that the SIZE FINDER will be 100% accurate for your needs; however, we encourage you to feel free to use this feature as a helpful tool to assist you in selecting your sizes.
FAQ'S - SIZE FINDER USING PHONE
Is my info safe? Can anyone see my photos?
Privacy is very important to us. Photos that are submitted have the background automatically removed and the subject is auto-filled in red. This ensures privacy & prevents anyone (including us) from seeing any identifiable features on a photo.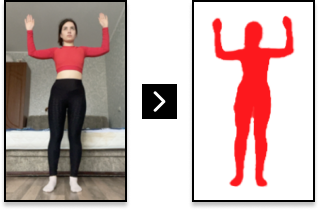 Why don't I see the SIZE FINDER button on every product?
Currently, this feature has been added to our newest line of products. We plan on adding this feature to other products in the near future.
Is it important to enter my correct height?
Yes, your height is the "reference point" to determine the other measurements. If you don't know your height, it is not recommended to use the SIZE FINDER.
Can I wear baggy clothes or should they be form-fitting clothes?
It is important that you wear form-fitting clothes (or no shirt) for the most accurate results. If you are wearing a shirt, please be sure to tuck it in.
Do I have to order the size that the SIZE FINDER is recommending?
No, you are not required to select the size the SIZE FINDER suggests. It is simply a tool that may or may not assist you with your purchasing decision. Ultimately, you get to make the final decision when it comes to sizing. If you prefer to order a different size than what the SIZE FINDER recommends, please feel free to order the different size.
If I use the SIZE FINDER, is the fit 100% guaranteed?
Although the SIZE FINDER is a useful tool, we cannot guarantee that the SIZE FINDER will be 100% accurate. Fit can often be subjective. One customer may like something very tight; another customer may like their fit very loose. You are not required to use the SIZE FINDER; it is a tool that you are welcome to use (or not use) to assist with your decision.
If I have a poor cellular connection, will the SIZE FINDER work?
It does not happen frequently; however, if you have a very poor cellular connection, it could time out. If this happens, we suggest you connect to WIFI.