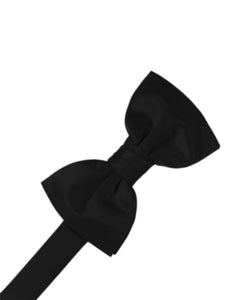 Free Shipping on $75+ Orders.

Same Day Shipping on most orders if ordered by 1pm EST.

30-Day Easy Returns if you need to return anything.
The Luxury Satin Collection is crafted using a premium satin fabric (not the inferior career-apparel grade). The premium satin is properly balanced with a subtle sheen, enhanced fusing and a "soft hand" making this an exceptional choice for individuals who wwho want their formal accessories to have a clean and polished look.
Color: Black
Pattern: Solid
Material: Premium Satin
Style: Pre-Tied
Shape: Butterfly
Sizing: Adjustable band for easy sizing. Pre-tied bow ties are adjustable from 14" to 23"; self-tie bow ties are adjustable from 14" to 18.5"
Condition: Brand new with original tags & packaging


STYLING TIP: Don't forget to order a coordinating pocket square with your bow tie.
PRODUCT QUESTIONS & ANSWERS
Have a Question?
Be the first to ask a question about this product.
Ask a Question
PRODUCT & MERCHANT REVIEWS: