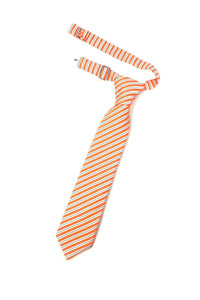 Free Shipping on $75+ Orders.

Same Day Shipping on most orders if ordered by 1pm EST.

30-Day Easy Returns if you need to return anything.
Do you love stripes? If you answered yes, than this collection might be the perfect option for you! The Newton Stripe Collection, available in six versatile colors, is a great option for those that like to step up their accessory game and take fashion risks. And we can assure you this is one you won't regret.



Color: Orange
Pattern: Striped
Material: Poly Woven
Style: Pre-Tied
Condition: Brand new with original tags & packaging
STYLING TIP #1: Don't forget to order a coordinating pocket square with your necktie.
PRODUCT QUESTIONS & ANSWERS
Have a Question?
Be the first to ask a question about this product.
Ask a Question
PRODUCT & MERCHANT REVIEWS: