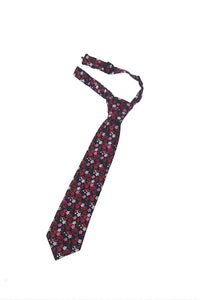 Free Shipping on $75+ Orders.

Same Day Shipping on most orders if ordered by 1pm EST.

30-Day Easy Returns if you need to return anything.
Enchanting, isn't it? This fun, charming and eye-catching collection is called Enchantment (and for good reasons). The Enchantment Collection offers a variety of different color schemes that would look great with any solid colored suit at a casual dinner party or outdoor wedding! It's a great way to add a little extra pizazz to any suited look without going overboard. All we're saying is be prepared to get a ton of compliments if you're sporting the Enchantment Collection.



Color: Red
Pattern: Floral
Material: Poly Woven
Style: Pre-Tied
Condition: Brand new with original tags & packaging
STYLING TIP #1: Don't forget to order a coordinating pocket square with your necktie.
PRODUCT QUESTIONS & ANSWERS
Have a Question?
Be the first to ask a question about this product.
Ask a Question
PRODUCT & MERCHANT REVIEWS: