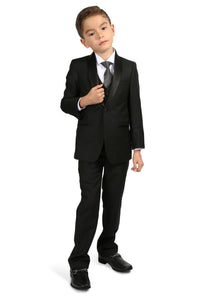 Free Shipping on $75+ Orders.

Same Day Shipping on most orders if ordered by 1pm EST.

30-Day Easy Returns if you need to return anything.
This 5-piece set includes the jacket, pants, shirt, vest and bowtie.

Color: Black
Jacket Lapels: Shawl
Buttons: 1
Material: Viscose Blend
Pattern: Solid
Jacket Vents: Side Vents
Fit & Sizes: Kids Slim Fit (2 - 18)
Condition: Brand new with original tags & packaging

(NOTE: Ferrecci's newest shipment of "Reno Jr" tuxedos now come with black satin bow ties instead of neckties)
PRODUCT QUESTIONS & ANSWERS
Have a Question?
Be the first to ask a question about this product.
Ask a Question
PRODUCT & MERCHANT REVIEWS: