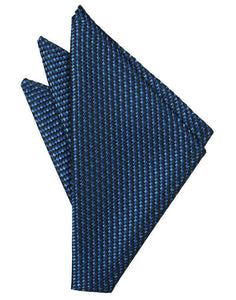 Free Shipping on $75+ Orders.

Same Day Shipping on most orders if ordered by 1pm EST.

30-Day Easy Returns if you need to return anything.
In Venice, Italy ... it has been said that "light and water combine to create a restless magic." In an effort to extend the reputation that is the magical atmosphere of Venice, we introduce to you the Venetian Collection. The poly woven material and micro neat stylish pattern makes the Venetian Collection an expert choice for any special event!


Color: Royal Blue
Pattern: Micro Neat
Material: Poly Woven
Dimensions: 30cm x 30cm
Condition: Brand new with original tags & packaging

STYLING TIP: "Don't you just like ... shove it in the pocket?" Ummm ... not quite. There's a little more to it than that. If you want to feel confident and feel like you OWN THE ROOM, read our how-to article and follow the easy instructions: How to Fold a Pocket Square
PRODUCT QUESTIONS & ANSWERS
Have a Question?
Be the first to ask a question about this product.
Ask a Question
PRODUCT & MERCHANT REVIEWS: