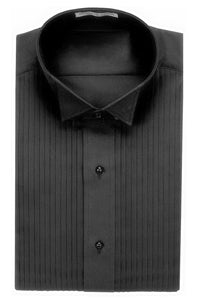 Free Shipping on $75+ Orders.

Same Day Shipping on most orders if ordered by 1pm EST.

30-Day Easy Returns if you need to return anything.
The "Thadeus" Kids Black Wingtip Tuxedo Shirt, crafted from a breathable cotton blend that is comfortable and light weight. It features 1/4" pleats that travel down the front bib of the shirt. The wingtip collar is a traditional design that pairs perfectly with any bow tie. This classic shirt is the perfect addition to your little one's tuxedo look!

Color: Black
Pattern: Solid
Material: Cotton Blend
Pleats: 1/4" Pleats
Cuffs: Barrel
Fit: Kids
Collar: Wingtip
Condition: Brand new with original tags & packaging
(NOTE: formal jewelry set not included with shirt).

PRODUCT QUESTIONS & ANSWERS
Have a Question?
Be the first to ask a question about this product.
Ask a Question
PRODUCT & MERCHANT REVIEWS: