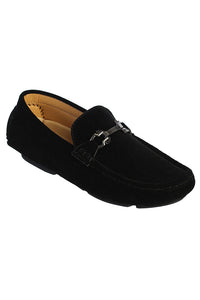 Free Shipping on $75+ Orders.

Same Day Shipping on most orders if ordered by 1pm EST.

30-Day Easy Returns if you need to return anything.
The "Fresno" Kids Black Dress Shoe, designed by Tip Top, is constructed from a luxurious velvet fabrication and features a slip on design. The classic style of this shoe allows it to coordinate well with any formal look while providing both comfort and style for your little ones.


Color: Black
Material: Velvet
Style: Slip On
Fit & Sizes: Sizes run from 5 to 5 Youth
Condition: Brand new with original tags & packaging!

(NOTE: these shoes tend to run a little large.  Frequently, we've found that customers usually order a size smaller than their regular size.)

STYLING TIP: Small details should never be overlooked when wearing a suit or tux. Don't forget to order a new pair (or two) of quality dress socks.
PRODUCT QUESTIONS & ANSWERS
Have a Question?
Be the first to ask a question about this product.
Ask a Question
PRODUCT & MERCHANT REVIEWS: